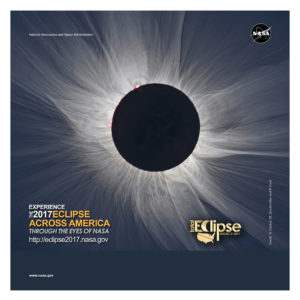 Last week I drove up into Nebraska hoping to find some clear skies in the path of totality of the solar eclipse. And I found some. What an experience! Probably once in a lifetime. So I thought I'd write about a legal topic that would work in the idea of an eclipse. Here's an analogy I think works pretty well.
When people come to me for help with a legal dispute, they usually say they want to find a good resolution, and to find it as quickly and efficiently as possible. There can be any number of roadblocks in the way of a good resolution, depending on the particular circumstances and people involved.  Some roadblocks are legal issues, some are practical problems, and some are personal issues. One personal issue that comes up sometimes, blocking the way to a good resolution, is the anger one or more of the parties has regarding the dispute.
It shouldn't surprise anyone that people can get angry over a legal dispute. Legal disputes often involve things that are very important to people—serious injury or death of a loved one; the loss or potential loss of valuable property or large amounts of money; the loss of employment or unfair treatment in employment; injury to a business or to a valuable business relationship; the loss of an important personal relationship, like a marriage; etc.
Anger isn't a bad thing in itself.  It is a normal human emotion.  It can motivate people to do the hard work necessary to correct something bad that has happened or is about to happen. But anger can be a challenge to handle well. Aristotle had this to say about anger: "Anybody can become angry—that is easy; but to be angry with the right person, and to the right degree, and at the right time, and for the right purpose, and in the right way—that is not within everybody's power and is not easy." 
When a person's anger is so strong and long-lasting that it predominates over their other emotions and faculties, especially when it eclipses their normal good judgment, it becomes a big roadblock to achieving a good resolution.
And there it is—the eclipse analogy. So picture this. Rather than the dark moon moving over the bright sun until it completely blots out the sun's light, a person's anger over a wrong or perceived wrong can dominate over their good judgment until there is no longer any trace of their good judgment in dealing with the dispute.
I've had clients whose anger over a dispute made it very difficult for me to show them a path toward a good resolution. When that happens, finding a way to deal with their anger is as important as dealing with any of the legal issues or practical problems in the dispute. But at least when it is my client who is angry, I am in a position to help them recognize and do something about their anger.
I've also been involved in legal disputes where the opposing party is extremely angry. It's particularly frustrating when it appears their anger is misdirected or is based on an incorrect understanding about the subject of the dispute. Finding a way to deal with an opposing party's anger can be quite a challenge. I usually don't have the opportunity to have the kind of frank discussion with an opposing party that I can have with a client who has come to trust and respect what I have to say. But in my experience it is almost always worth the effort, even if it is ultimately unsuccessful.
And here's where the analogy breaks down a bit. In a solar eclipse, the moon blots out the sun for only a short time. Then it moves on and the sun shines again. Anger becomes a roadblock to a good resolution of a legal dispute when it eclipses a person's good judgment and doesn't move on—when it seethes, and festers, and becomes entrenched. While an eclipse lasting for a few moments is an awesome sight, imagine life if the moon never moved on and continually blotted out the sun. It would get old fast and would seriously interfere with life on earth. So, too, with unresolved anger over a legal dispute that eclipses a person's ability to recognize a path toward a good resolution.
If you know a person in a situation like that, are you in a position to help them recognize it and start to work through it? Or perhaps to point them to someone who can?